Reception 2018
Welcome back! We are very excited in Reception about the Summer Term ahead of us!
This half term we will be focusing our learning on the text 'The Way Back Home' by Oliver Jeffers. The story follows the adventure of a little boy who flies his aeroplane so high that he lands on the moon and becomes stranded! Fortunately, he isn't alone. An alien from outer space has a similar problem, and the pair become unlikely friends. The story explores themes of collaboration, cooperation and problem solving, whilst also giving the children an opportunity to explore the planets, moon and the stars!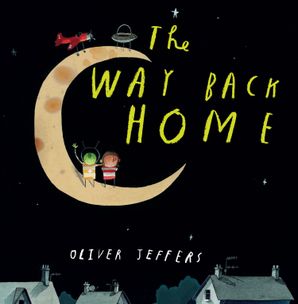 Within our Literacy sessions we will be making predictions and inferences about the story as we begin to read it. We will be investigating the moon and exploring some features of information texts in non-fiction books too. We will be using our imaginations to take us to different places in outer space and using our senses to think about what we might see, hear and feel there! Later in the half term we will be using our language and understanding of the story to retell, sequence and storymap the events within the book, before developing our own narratives based upon 'The Way Back Home'. We will be thinking carefully about characters, settings, problems and resolutions!
We will be continuing with our daily phonics sessions and developing our confidence and fluency when reading independently! We are continuing to consolidate some Phase 3 sounds whilst tackling some trickier words with multiple syllables and consonant blends. Later in the half term we will be calling upon our friends from Monster Phonics Land to learn some new, alternative sounds from Phase 5. We will be using our monster friends to help us make links between different spellings of sounds and thinking about making choices about which sounds to use when writing.
During our Mathematics sessions we will consolidating our knowledge of numbers to 20 and beyond. We are practising counting, ordering and sequencing numbers to 20, matching numerals to quantities and counting in groups of 2. We will be solving problems using our addition skills and thinking about what it means to double a number! We love using a range of indoor and outdoor resources to help us with our mathematical understanding! We will be thinking about splitting quantities into equal groups and sharing numbers out equally. We will be using our mathematical skills and language to problem solve, reason and work collaboratively. We love a mathematical challenge in Reception!
We are promoting the children's growing independence and confidence by encouraging them to take on new challenges and lead their own learning. We could not be more proud of our children and the love for learning they are developing each day! We are thoroughly enjoying our weekly indoor and outdoor learning challenges, and are pushing ourselves to review and evaluate our learning and make positive changes to our work as we progress.
We are making an excellent start to the first Summer half term and cannot wait to continue to investigate all things galactic!
Thank you for your continuing support at home!
Miss Williams & Mrs Borders
Reception